Greetings,
Ironically, the day Socal Gas Citygate melted down the EIA released this report:
Regional natural gas infrastructure issues in Southern California could affect electricity reliability this summer, according to separate studies recently released by the Southern California Gas Company (SoCalGas) and the Aliso Canyon Technical Assessment Group. Depending on natural gas infrastructure changes and storage operations this summer, these issues could also have implications for the upcoming winter.
The Aliso Canyon Technical Assessment Group, which includes the California Public Utility Commission, the California Energy Commission, the California Independent System Operator, and the Los Angeles Department of Water and Power, concluded that base case total system deliverability capacity—a combination of the natural gas pipeline system and the deliverability capacity of non-Aliso storage working gas—is slightly lower than 3.6 billion cubic feet per day (Bcf/d) this summer, or 0.2 Bcf/d lower than last summer when pipeline outages curtailed deliverability.
If daily natural gas demand exceeds 3.6 Bcf/d—which is relatively common in winter months but has occurred only once in the past five summers—some natural gas deliveries to electric generators may need to be curtailed.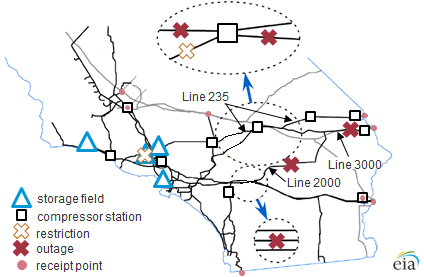 Source: U.S. Energy Information Administration and Southern California Gas Company
---
Since October 2017, SoCalGas has experienced a series of planned and unplanned natural gas pipeline outages that have reduced the ability to bring natural gas into Southern California. According to the May 7, 2018 SoCalGas maintenance schedule, pipeline repairs are not expected to be completed until the end of summer, with key pipelines—Lines 4000, 235-2, and 2000—showing no scheduled completion date. Pipeline capacity for summer 2018 is about 0.53 Bcf/d lower than at this time last summer, but storage deliverability is about 0.4 Bcf/d higher.
Natural gas inventories in Southern California are typically refilled over the summer months. However, electricity demand is higher in the summer months, and natural gas is a key fuel source for electric power generation in Southern California. According to SoCalGas, the current outages leave the company with insufficient capacity to both serve customer demand and to refill storage inventories.
The timing and extent of refilling natural gas at SoCalGas' storage fields have changed since a leak at the Aliso Canyon storage complex was discovered in October 2015. Aliso Canyon, previously the second-largest natural gas storage facility in the United States, had its capacity reduced from 86 billion cubic feet (Bcf) to about 25 Bcf as a result of the leak. The total capacity of the four storage facilities in the SoCalGas service territory declined from 136 Bcf to 74 Bcf.
Working gas inventories as of June 6, 2018, totaled 58.2 Bcf, which is low by historical standards, but 11 Bcf higher than at this time in 2017 and 4.1 Bcf lower than at this time in 2016.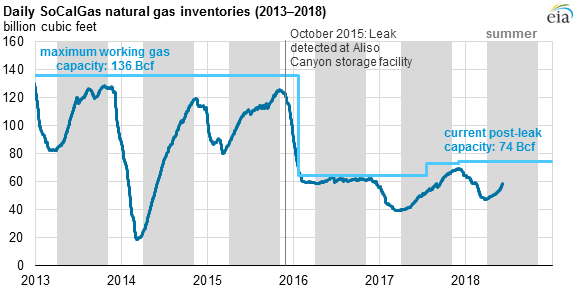 Source: U.S. Energy Information Administration, based on SoCalGas ENVOY electronic bulletin board system and California Public Utilities Commission
---
The Assessment Group's report issued a series of recommendations to help Southern California address reliability challenges, including:
Importing liquefied natural gas (LNG) through the Otay Mesa receipt point at the San Diego-Mexico border
Coordinating with natural gas customers to ensure they are prepared to respond to high and low operational flow orders to maintain system balance
Expediting any pending electricity transmission upgrades
Taking advantage of demand response pilot projects
Exploring an increase in the maximum target inventory—or storage capacity—at Aliso Canyon
___________________________________________________________________________
Mike's Take
We aren't one to rain on the hype parade, yet we've always struggled to see how summer could break the bank. The SysOps seem to think Summer's magic number (System Sendout) is around 3.2 bcf.
Last year had a slew of "Stress Days," but exactly how stressful were those stress days? The thinking goes, on these days SCG runs out of gas, literally, and must pay generators to shut-down, or the price of nat gas is so high they do so willingly. Makes sense, we saw that last winter a few times, and prices soared north of $19.00/mmbtu.
Scary stuff, huh? Well, the hype is creepy, the reality perhaps not so much. First, on the biggest draw day of the year last summer, Aug 28 (3.515 bcf send out) the price jumped to a modest $4.79/mmbtu. OK, but this year's different, lots of outages.
Yet, we can't quite reconcile all of this for this one simple fact:
SP15 was sitting on at least 3000 MW of incremental import capacity on the worst possible hour of that day.  Assuming you need to dispatch a few thousand MWs of SP gas, why wouldn't you just increase imports which is the same thing as virtually importing nat gas? Was there capacity on the lines?
Using hourly TTC (reported by the ISO) the answer is yes, a lot of unused import capacity.  A more conservative approach uses MaxImport as a proxy for functional TTC. Even that suggests SP15 could have leaned on its power lines and turned off its own gas units, but it didn't. Why? Gas price only rose to $4.79, why would it? But, if gas was $10 or $15 or $20, you can be certain imports would have soared and there would be no crisis.
Also, the stress days are really only stressed "hours" due to the Net Demand Curve of power. Peak loads occur on HE17 and Peak Net Demand on HE21 (due to Solar Ramp); that only leaves a handful of tight hours, unlike a Winter day where all 24 hours are bullish. Even if a few hours were curtailed, how does that translate into a 24-hour gas price?
Food for thought.
If you are interested in discussing the study or would like the backup data, drop me a note.
Michael Griswold
206-877-0991
icechart: mgriswold3